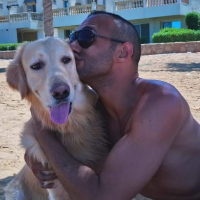 M.K. Ragab
Crime Fiction, Thrillers, Suspense, Mysteries, Supernatural Suspense, Action & Adventure, Paranormal Romance, Science Fiction, Fantasy
M. K. Ragab is a serial entrepreneur, Aspiring Author, and Psychologist with a passion for quantum physics and spirituality.

Having had his own online magazine as his graduation project, Ragab has been working since the age of 17 in multiple industries that enabled him to gain knowledge in many fields.

From a short career in magazine writing to working as a Talent Management executive in the field of IT and Software development. He earned his psychology certificate at the age of 19, his Kung Fu red trainers belt at 22, and his Graphics Design and Film Making diploma at the age of 24.

He shifted his career from Talent Management to Writing in the aftermath of the CoVid19 pandemic, and his novels are now being sold over 16 global distributors and online stores.
You can be too rich and too thin but you can never be too well read or too curious about the world.
Tim Gunn